Cambria's Olallieberry Inn – Artist's Workshop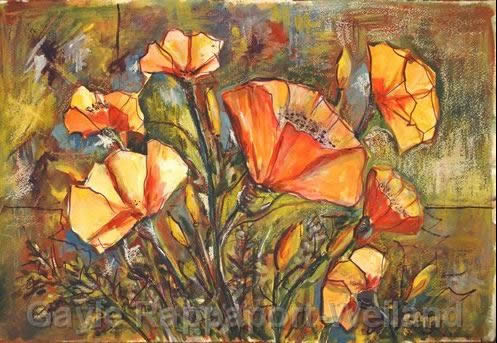 Olallieberry Inn Special Event!
Floral Mixed Media Experimentation Workshop Retreat
Hosted at Olallieberry Inn, Cambria
Fri., Sept. 20, 5:00pm – 6:00 pm
Meet, Greet, Show and Tell.
Sat., Sept. 21, 10:00 – 4:00pm
Workshop, Materials Provided.
Sun., Sept. 22, 9:30am – 10:30am
Review of Artwork.
Call Olallieberry Inn for workshop and lodging pricing and availability:
805-927-3222
Visit Gayle Rappaport's website:
http://www.grappaport.com/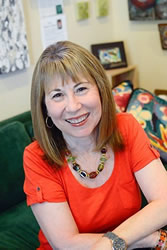 Gayle Rappaport -Weiland: Gayle brings the same originality, enthusiasm, energy and heart to her paintings as she does to her life. Using rule-breaking techniques that set her apart from the crowd, she creates beautiful impressionistic works, using watercolor, acrylic and mixed media. Her qualifications and expertise, whether as an artist, teacher, curator, juror and on-air personality are widely recognized and respected.
Gayle's paintings have been exhibited in galleries and personal exhibitions throughout the United States and are shown in a variety of galleries located throughout the West Coast. Collectors throughout the World proudly hold her work.
"We had a great experience, Olallieberry Inn sets the bar high. It was our first experience at a B&B, Will recommend and plan to visit again. Historic home, lots of character, clean, great breakfast, and very comfortable. Love the location on the creek and walk town!" – TH, Fallbrook.