Cambria's Olallieberry Inn – Meet Nelson & Maureen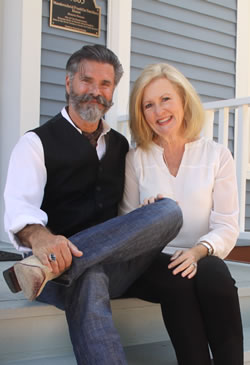 "Life can be all too busy and finding time to really connect with your partner can be challenging. Don't waste another minute not focusing on each other. The Olallieberry Inn is where time stands still and you can create amazing romantic memories. The experience is about special moments – connecting with your partner, taking in the beautiful flora and fauna and magical charm of Cambria's past and present." – Nelson. "I fell in love with the Inn at first sight and knew this is where I had to be," says Maureen. "I think you may have the same amazing feeling!"
Olallieberry Innkeepers Maureen and Nelson Hubbell (pictured at right) are the owners of this award winning Cambria B&B.
Nelson and Maureen Hubbell have meticulously restored the property to its original vintage that honors its historic roots but with a very relevant décor. They have gained a reputation for their exquisite style of hospitality … caring for each guest in special and memorable ways.
"One of the joys of owning an Inn is you can make it your own. We have a passion for art and music as reflected by our collection of original paintings, musical instruments and classic vinyls and turntable for our guests to enjoy. We both come from creative backgrounds and are right at home in the vibrant creative arts scene of Cambria.
We're very proud to be part of such a romantic luxury home and charming community. A hidden gem of the central coast.
We're committed to excellence and maintaining the Inn's outstanding reputation as the Best Bed & Breakfast and Boutique Hotel in the county!"
The Key to a Magical & Memorable Stay: Untether your electronic leash, smell the flowers, and "Love the one you're with!"
"Relaxing stay on our Highway 1 drive. We've stayed at some incredible Bed and Breakfast's during our travels, both in the US and abroad, and this one was right up there with the best of them. The happy hour upon arrival, extremely personable owners and staff (who provided great food recs), amazing garden, softest sheets, gourmet breakfast, easy walk to town, etc. make this a no brainer if you're staying in Cambria. Would love to make our way back someday." – Erik, Chicago IL