Cambria's Olallieberry Inn – Meet Alanna & Aaron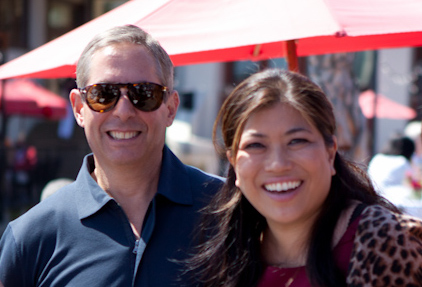 Not unlike so many of our guests, we were enchanted by the Olallieberry Inn gardens, the giant redwood tree that graces the front yard, and the timeless architecture of the historic home … falling in love with the Inn, at first sight. We instantly wanted to be a part of the inn's legacy, and as of April 2020, we are the newest owners of this popular B&B. With the most tranquil setting and warm, dedicated staff, the Olallieberry Inn has become a true refuge for us and our wish is to share this nurturing experience with all of our guests.
Both of us are native Californians, originally from the San Francisco Bay Area, relocating to the beautiful Central Coast in 2018. We're so grateful to be surrounded by an abundance of nature and the kind of extra friendly people that can be found in a small town setting. With 40+ years between us in the hospitality industry, we thrive on meeting and caring for guests.
We welcome you to Olallieberry Inn and our charming coastal town where you can relax, rejuvenate and create lasting memories.
– Alanna & Aaron
"Relaxing stay on our Highway 1 drive. We've stayed at some incredible Bed and Breakfast's during our travels, both in the US and abroad, and this one was right up there with the best of them. The happy hour upon arrival, extremely personable owners and staff (who provided great food recs), amazing garden, softest sheets, gourmet breakfast, easy walk to town, etc. make this a no brainer if you're staying in Cambria. Would love to make our way back someday." – Erik, Chicago IL