Cambria's Olallieberry Inn – Weddings
Please consider Olallieberry Inn in Cambria, California as the ideal setting for your special day, whether it is an engagement, wedding or elopement. We work with you to provide the exact services and amenities needed to make your private event an exquisite affair to remember for all times.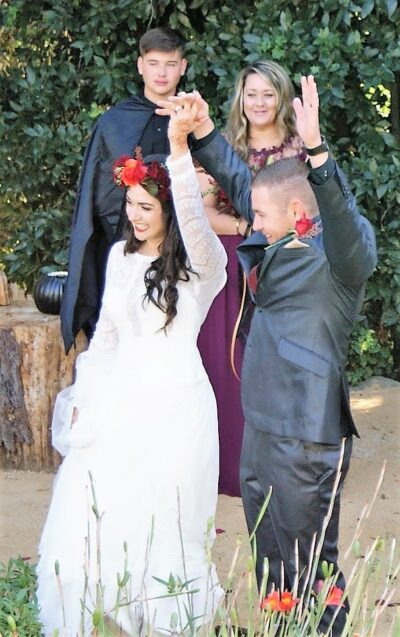 Olallieberry Elopement/Wedding Package
The Olallieberry Inn is the perfect venue for your small intimate wedding. We have created this package for couples who want to elope or renew their vows the old- fashioned way, with just the bride and groom or a small group. To ensure privacy and exclusivity, elopement ceremonies and receptions are held between 12:30 and 3:30 p.m. including cake and a champagne toast. Your entire event will be coordinated by Maureen Hubbell, owner of the Olallieberry Inn.
Package Includes:
Two- night accommodation in our Creekside Suite with our famous Olallieberry breakfast each morning. Wine and appetizer every afternoon. The day following your ceremony you will enjoy your breakfast in your suite or private deck, for you to enjoy alone in an intimate setting.
Customized ceremony with our Justice of the Peace including a private meeting scheduled prior to your wedding day
Music played before, during, and after the ceremony with your preferred selections.
*Personalized Professional Photography session , pricing available upon request
Bridal bouquet and boutonniere
Wedding cake for 2 from the famous Linn's in Cambria. Choices of cake flavors available.
Bottle of champagne or sparkling wine with our exclusive Olallieberry Truffles
Dinner for two at with Madeline's restaurant or Robin's restaurant, 2 of Cambria's Top restaurants with a value of $100
Special Bonus: Enjoy 25% savings off a 2-night stay with our Anniversary Package when you book a return visit within 2 years.
Pricing: We custom design each package and pricing to fit the needs of each client and to be affordable. Please call us to discuss your special day … your particular needs and the pricing for your event: 805-927-3222.
A La Cart Items:
Photography session with Brian Bishop-*Personalized Professional Photography session including: The 4 hours includes pre-ceremony photos, ceremony and reception, family/friend photos, and photos around the Cambria area/beach. You also receive the fully edited high-resolution files on a USB drive in a custom case as well as a password-protected online gallery of their wedding images.
Additional guests from 3 to 25 – $25 per person (additional fees may apply)
Delicious light appetizer reception with Olallieberry Inn's appetizers. Rates to be discussed.
Our very special Olallieberry picnic including a bottle of wine from the Paso Robles region, homemade French bread, salad, fruit and of course Olallieberry bars. Enough food for 2 people.
Rent 2 bikes and enjoy the central coast- $30 for 2 bikes
Please note: Your event must be booked at least 60 days before the wedding date.
"We knew when we walked into the Olallieberry Inn that our search for the perfect place to have our intimate wedding was over. The gardens were lovely and serene, the rooms sweetly decorated and inviting, and the food – we arrived at the evening wine hors d'oeuvres hour – simply delicious. But what really set the Olallieberry apart was how warmly we were treated by the owners, and the whole Olallieberry staff. In the most caring way, they were willing to do just about anything to make our wedding weekend special. There were fresh roses in each room, a gorgeous table of wine and hors d'oeuvres for the ceremony, our choice of breakfast dishes each morning and massages for the guests. There are many beautiful places on the Central Coast, but the Olallieberry Inn is truly a rare find. We will forever be grateful for the perfect wedding we had there."
– Mark & Kerry-Frances Molinari
"It was one of those last minute decisions. Plan a formal wedding, which we had no time for, or just run away somewhere and get hitched. We were very fortunate to have stumbled upon the Olallieberry Inn. The owners and staff, could not have been more gracious or helpful. From helping us find a local florist, to being the event's photographer, to just making our special day perfect. And let's not forget the famous Olallieberry Inn breakfast. You can't get married on an empty stomach!"
– Barry & Jessy