Covid-19 Safe Practices & Policies
Dear Valued Guest: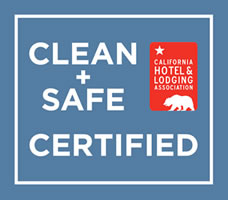 Welcome to Olallieberry Inn! We appreciate that you have chosen our bed and breakfast for your Cambria getaway.
Below you will find a list of practices that we are engaged in to best protect you, our guest, as well as our staff during this time of Covid-19.
Thank you for your understanding and participation as we work together to stay healthy and enjoy life during a particularly difficult time in our history.
~ All of us at Olallieberry Inn
PROPERTY PRACTICES
We have trained our staff in extensive cleaning procedures, to include continual disinfecting of all frequent contact surfaces such as counters, door knobs, lamps, light switches, tables and chairs.
You are welcome to enjoy our outdoor facilities. Our staff practices frequent cleaning of railings, deck chairs, and all common touch surfaces.
Our staff will wear face coverings and gloves during guest interactions for the foreseeable future.
At all times, we practice social distancing, maintaining 6-feet distance from others.
GUEST ROOM PRACTICES
Each of our rooms are thoroughly cleaned and sanitized prior to guest arrival. All surfaces, furniture, linens and amenities are sanitized.
Each room stands vacant for 24 hours between guests.
Once your room is cleaned and prepared for you, no one enters the room prior to your arrival.
In your room, you will find a set of masks, antibacterial hand sanitizer, and disposable gloves for your use during your stay in Cambria.
In order to minimize personal contact, we will not be providing cleaning in your room during your stay. You're welcome to request any amenities and supplies that need to be replenished as needed.
BREAKFAST & WINE HOUR
We provide a delicious breakfast each morning as part of your stay. We have two seatings (8:00am or 9:15am) to ensure social distancing and a quality dining experience. You may request your preference at check-in.
Breakfast and wine hour appetizers will be served individually plated.
Our staff will wear masks and gloves when preparing and serving any food.
GUEST POLICIES
We will require all guests to wear face coverings in the public areas of our property, except while seated for dining.
We will ask all guests to practice social distancing when interacting with staff and other guests.
If you are feeling unwell, we request that you notify us so that we can reschedule your stay.
If while at the inn, you become unwell, we request you to stay in your room and wear a face covering until arrangements can be made to return home at the earliest possible time.