Covid-19 Safe Practices & Policies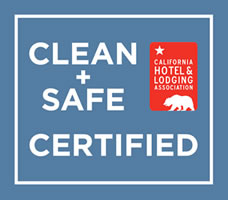 Dear Valued Guest:
Welcome to Olallieberry Inn! Thank you for choosing our B&B for your Cambria getaway.
Below you will find a list of practices that we are engaged in to best protect you, our guest, as well as our staff during this time of Covid-19.
Thank you for your understanding and participation as we work together to stay healthy and enjoy life during a particularly difficult time in our history.
~ All of us at Olallieberry Inn

PROPERTY & FOOD SERVICE PRACTICES
Our staff will wear face coverings and gloves when preparing food and for all guest interactions.
We have two breakfast seatings (8:00am or 9:15am) to ensure physical distancing.
CLEANING & GUEST ROOM PRACTICES
Our staff is trained in extensive cleaning procedures, especially all frequent contact surfaces.
Each room is thoroughly cleaned and sanitized between each guest's stay.
We provide cleaning in your room during your stay. You may request to opt out of this mid-stay service.
GUEST POLICIES
We request all guests, regardless of vaccination status, wear masks in the public areas of our property, except while seated and eating or drinking.
We will ask all guests to practice social distancing when interacting with staff and other guests.
If while at the inn, you become unwell, we request you to stay in your room and wear a face covering until arrangements can be made to return home at the earliest possible time.
"Just spent another wonderful, long weekend at the Olallieberry Inn. So glad that they were back open. EXCELLENT adherence to covid-19 policies, they were actually over-the-top in making sure their guests and staff were safe. This place is in a great location with easy walking distance to all of the west-side Cambria shops and restaurants. The new owners Alanna and Aaron are very nice and hospitable, they are continuing on with all of the little extras that many have come to know at this B&B, they have even done some upgrades to the bathrooms, and other areas during the covid "downtime". Dirk and Co. are still serving up yummy breakfasts each morning and don't forget happy hour on the balcony every night, great wine and appetizers and chatting with other guests. This place is highly recommended." – Joe, Temecula, CA ~ Yelp Review