Cambria's Olallieberry Inn – Modern Luxury in an Historic Setting
Travel + Leisure Magazine features the town of Cambria
"This Small California Town Is One of the Most Beautiful Coastal Destinations in the State."
Story by Stacey Leasca, April 2023
Olallieberry Inn … a romantic boutique hotel, with the ambiance of a classic bed and breakfast, located in the seaside village of Cambria on California's central coast. This 1865 built home is one of the oldest buildings in town, set on the banks of the Santa Rosa Creek. A 135 year old Redwood tree greets guests and the inn is surrounded by lush, colorful gardens. Olallieberry Inn offers a peaceful, serene and private oasis, yet you're just a short walk to the finest restaurants, shops and galleries in Cambria's quaint downtown and Hearst Castle is less than 10 miles away.
This Cambria boutique hotel, voted as best place to stay in Cambria (TripAdvisor), is ideal for private retreats, romantic getaways, friends and family reunions and any special celebration. To best retain a peaceful environment, all rooms are TV-free and telephone-free, although the whole property has free, high-speed wireless internet. We have a Tesla charger for guests; email us in advance if you want to reserve that parking spot!
Olallieberry Inn cannot accept pets (except with proof of registered service dogs) and is best suited to adults and well-behaved children over the age of 12.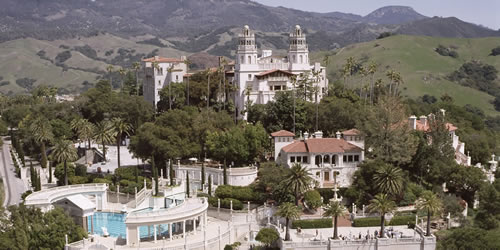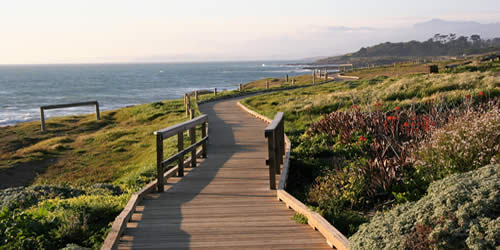 Walk Along Moonstone Beach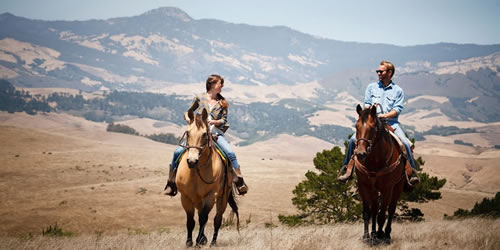 Ride Horses near Hearst Ranch.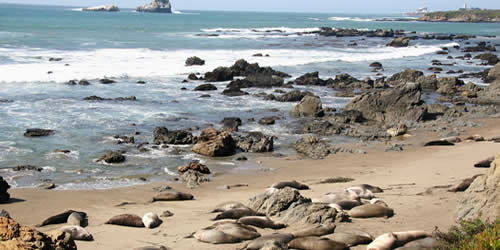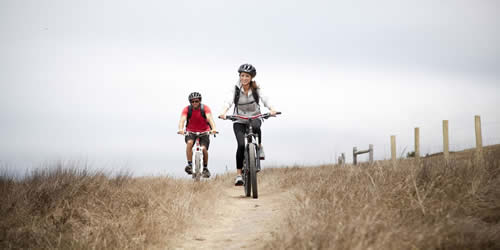 WHAT IS AN OLALLIEBERRY?
The olallieberry (pronounced oh-la-leh-berry) was developed in 1949 by the US Department of Agriculture by crossing a loganberry with a youngberry. Genetically, this resulted in two-thirds blackberry and one-third red raspberry. Its physical characteristics are those of a blackberry but larger in size and somewhat sweeter. They have an intense, tart flavor, and are shiny and juicy. Although developed in Oregon they never grew very well there but flourish in California. The olallieberry is grown mostly along the coast. "If you like Blackberries you'll love Olallieberries" – from Home Gardening – LA Times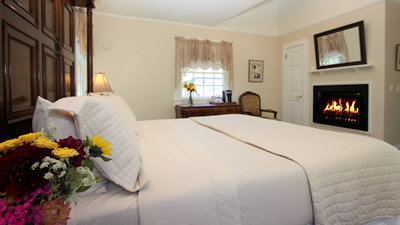 Room rate includes the following for two people!
A well-appointed room with private bath + fireplace.
Fresh baked cookies upon arrival.
Evening hors d'oeuvres with wine.
*Plus a 3-course, gourmet breakfast each morning.
Free Wireless Internet throughout the inn.
Complementary concierge services.
Super comfy beds and luxury sheets.
Serene tranquility.
**Olallieberry Inn is one of two Cambria B&Bs
that serves a chef-prepared full hot breakfast!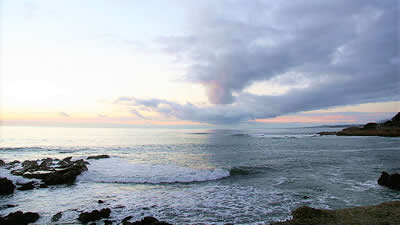 Moonstone Beach!
This magnificent beach is a healthy walk from Olallieberry Inn or a very short drive. Most extraordinary are the tidepools, surfing, picnicking, bird watching, viewing sunrise and sunsets, as well as strolling along the extensive wooded walkway that spans the oceanfront.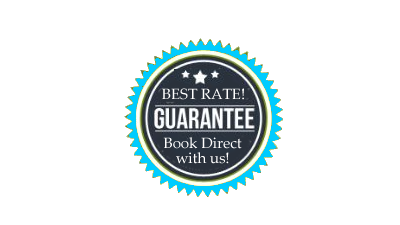 Guaranteed Best Rates!
Our "Best Rates" are available only on our reservation pages or by phone. Many third party websites (like Expedia and Booking … TripAdvisor and even Google), claim to have the best rates for our guest rooms. They do not, because we provide them inventory.
Truth is that you get the best room rates by booking through our website or calling us directly: 805-927-3222.
We also send special offers via periodic newsletters. You can sign up for our mailing list: info@olallieberry.com.
Use promo code BestRate and you will get $10 off your rate just for booking-online directly with us.
Social Media … Let's Connect!

EDITOR'S CHOICE AWARD! "The quiet, romantic seaside village of Cambria is a vibe and this purply blue cottage bed and breakfast matches that tone with its immaculate gardens (often visited by deer and birds), spacious rooms with en suite bathrooms that are precious without being too frilly, attentive hosts, and plenty of opportunities to eat made-from-scratch nibbles that take advantage of California's bounty and mild weather. Every stay comes with a three-course hot breakfast that includes olallieberry yogurt, homemade granola, and home-baked goods, and the daily sundeck reception in the late afternoon where guests can try local wine and hors d'oeuvres." ~ Carrie Bell