Cambria's Olallieberry Inn – Our Policies
OUR POLICIES
Important Information
Room rates are based on double occupancy.
All rooms can accommodate 2 persons only with the exception of the Creekside Suite which can accommodate up to 3 persons.

Olallieberry Inn cannot accept pets with the exception of a registered service dog. Please see our pet policies below.

The inn is best suited to adults and well-behaved children over the age of 12. Please call us if you plan to bring children.

There is a charge of $60 per person (children of any age included) for additional guests in the Creekside Room.
Check-in time is 3pm – 6pm. (Please notify us if you plan to arrived after 5pm. We will provide you with late check-in instructions.)
Check-out time is 11am.
We have a Tesla charger for guests @ $25 per stay; email us in advance if you want to reserve that parking spot.
We are a non-smoking property. Violations result in a $300 charge per incident.
Cancellation Policy
There will be no penalty for cancellation with 48 hours notice (contact the inn by 3pm two days prior to the check-in date). Cancellation within 48 hours of the reservation or no-shows will be charged the rate of one night.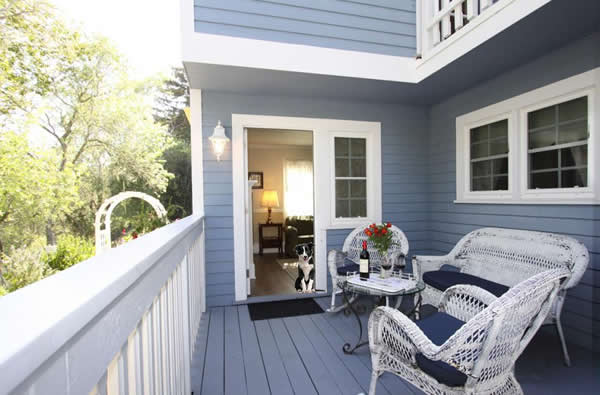 PET POLICIES
We welcome one registered service dog in Creekside Suite only, with prior telephone reservation.
Here are our policies.
There is a $35 a night charge for your dog.
Your dog may not be left alone in guest room.
Please have your dog in service vest and leash in public areas.
We will provide a sheet to cover the comforter should your dog sleep on the bed with you.
Your dog is welcome to join you at breakfast and wine hour, but must be wearing a service vest.
We ask that your dog be clean, well groomed, and have current shots and flea & tick care.
Owners must agree to be responsible for any and all damage done by their dog.
The dog owners credit card on file will be charged for any and all damage done by their dog.
"Best B&B on the Coast! Love Olallieberry Inn…from the owners to the staff to the quaint rooms and delicious food and inviting conversations with other guests. Meets all of your needs when you need that time away to just relax and unwind!" – Solo, TripAdvisor.