Cambria's Olallieberry Inn – Specials
There's always something special going on at Olallieberry Inn! This includes discounted stays, special events and add ons that will enhance your getaway. Surely there is one that is just right for you and your loved one.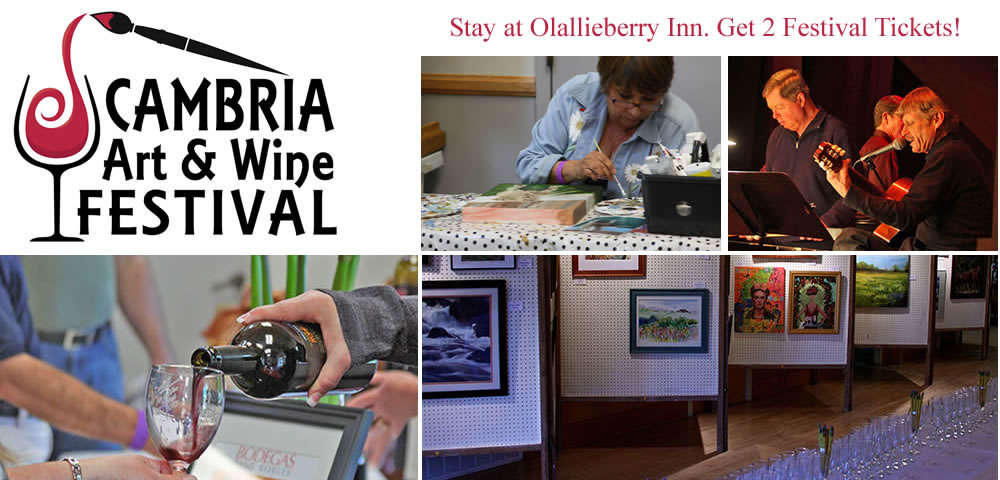 January 24-26: Cambria ART & WINE FESTIVAL … On Us!
Stay 2 nights at Olallieberry Inn on January 24, 25 & 26; we will buy your (2) tickets to the Art & Wine Festival!
Includes reception on the 25th at Olallieberry for local artist Lana Cochrun. We are serving appetizers with tastings by San Antonio Winery.
Must request the "Art & Wine Package." Must book directly with Olallieberry Inn and not through a 3rd Party (booking.com, expedia.com, etc) This offer may not be combined with other discounts. Please note that this offer in non-cancellable and non-refundable.
INCLUDES: All Main Event Venues (Friday, Saturday & Sunday), Plus Passport/Program opportunities to earn Raffle Prize Tickets, Wine Glass & 10 Tasting tickets. Main Event runs Friday, Saturday & Sunday. Friday & Saturday participating businesses may offer wine tasting, refreshments, specials or discounts. Saturday adds wine tasting at the Veterans' Hall, Cambria Center for the Arts & the Cambria Historical Museum, entry to the Art Show/Silent Auction and chances for Raffle Drawings. Sunday offers the Artists Faire with Demonstrating Artists, Wine tasting & food available. (Does not include kick off party)
Begins 10 am Friday. See website for details: http://cambriaartwine.org/
BOOK ONLINE OR CALL 805-927-3222.
We have only seven rooms available!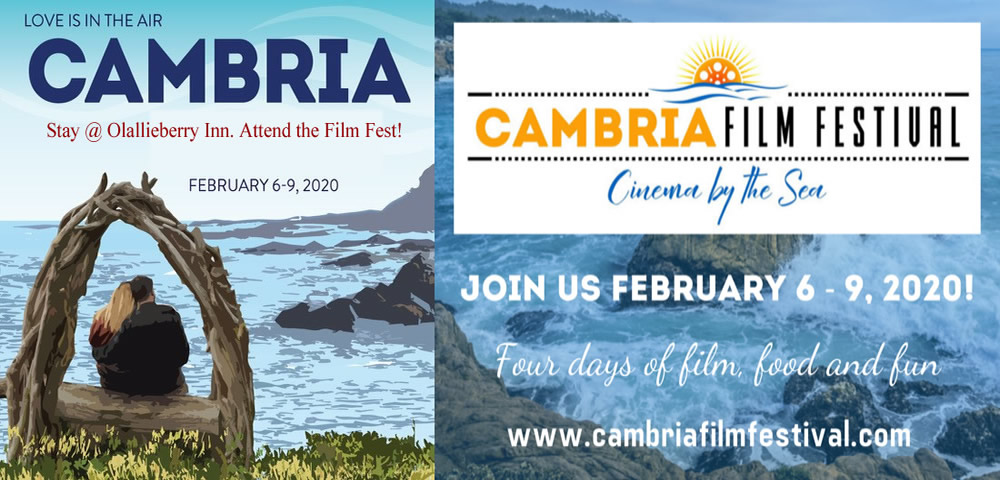 Please join us for the February 6th – 9th Cambria Film Festival!
Love is in the air in Cambria! Long known for its art galleries, wine tasting, and quaint weekend getaways, the small, seaside village of Cambria will host a 4-day film festival.
The Cambria Film Festival is all about romance, romantic comedies and the complexity of love. Their mission is to showcase wonderful films in our charming seaside town. For 2020, more than 1500 independent films from around the world were entered into competition. Only 50 or so will be chosen. Let our four-day festival guide you through the best of the best in shorts, features and documentaries. (See event website: http://cambriafilmfestival.com/)
Book your stay at Olallieberry Inn during the February 6th – 9th Cambria Film Festival.
Take advantage of the online film fest rates.
https://cambriafilmfestival2020.eventive.org/passes/buy
On Sunday, February 9th we will host a Directors Breakfast.
Join us for a special time to get to know one of the festivals film directors for a Q&A talk.
BOOK ONLINE OR CALL 805-927-3222.
We have only seven rooms available!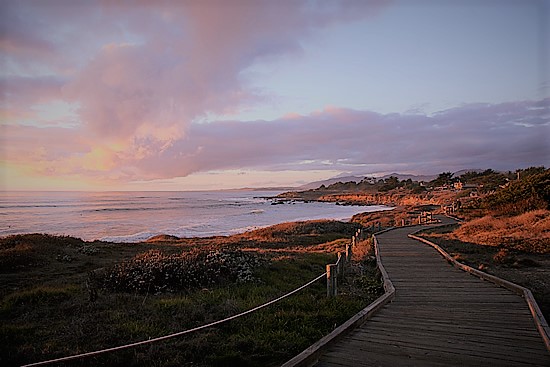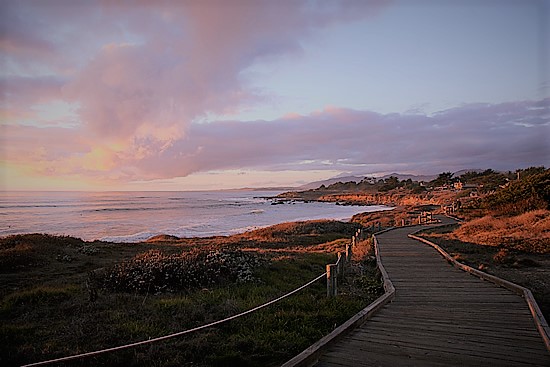 Military Discount
We offer 5% off of your room rate for active military.
Please request when booking and present your credentials at check in.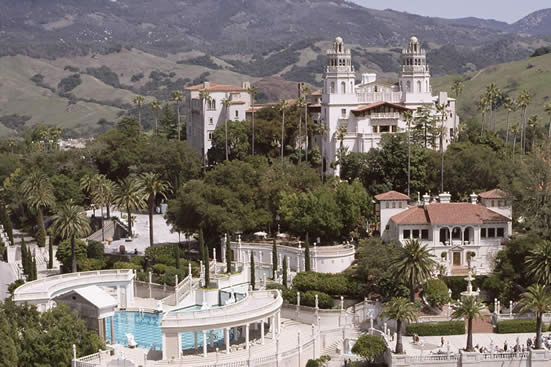 Olallieberry Inn Picnic Lunch
There's so much to do when visiting Olallieberry Inn! Visit Hearst Castle, hike an abundance of trails, enjoy the wonderful wines from Paso Robles, or simply relax in our beautiful gardens. For guests on the go … let us fortify you with a special lunch packed with love!
The picnic lunch includes homemade French bread, salad, salami, fruit and nuts, a sweet treat from the Inn's kitchen, and a bottle of local Paso Wine. (Vegetarian options available upon request.)
Your order must be placed at the time of your reservation or call 1 week before: 805-927-3222.
Lunch for 2: $60.00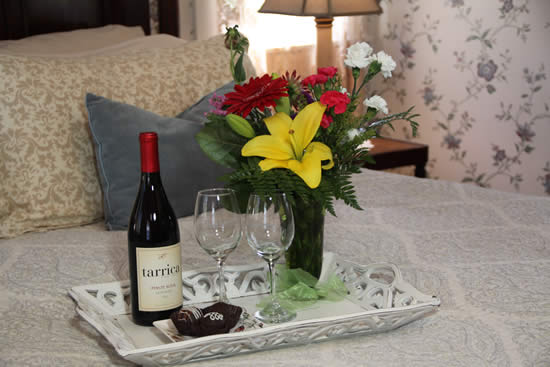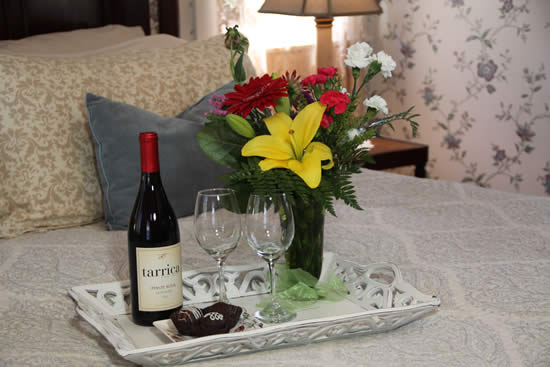 Make your stay extra romantic!
We'll prepare a chilled bottle of champagne and a fresh bouquet of flowers for you and your loved one.
Add $60 to your room rate.
Please request this romantic special when booking your stay.
"We had a great experience, Olallieberry Inn sets the bar high. It was our first experience at a B&B, Will recommend and plan to visit again. Historic home, lots of character, clean, great breakfast, and very comfortable. Love the location on the creek and walk town!" – TH, Fallbrook.