Cambria's Olallieberry Inn – Specials

Plan ahead for Cambria's greatest event of the year!
Join us for the 12th Annual Christmas Market, featuring over 2+ million Christmas lights. Shop with artisan vendors, walk through the light displays with over two-million lights, take photos with Santa, enjoy live entertainment, taste traditional German foods, drink Gluhwein in the Biergarten and more at this charming outdoor festival. (https://cambriachristmasmarket.com/)
Plan to stay at Olallieberry Inn for any two nights during Cambria Christmas Market. Purchase your (2) tickets (now on sale) and we will deduct the cost of the tickets from your stay at our Inn!
The market and light displays open November 24th. The market ends on December 23rd. Gates open at 5pm and close at 8:30pm. Please allow 2-3 hours to view the market and lights. (Closed on Mondays and Tuesdays)
Please check this calendar to ensure that the night you want to attend is open to the public: https://cambriachristmasmarket.com/events/.
Please call Olallieberry Inn to book your stay (805.927.3222) or book online. Must book directly with Olallieberry Inn and not through a 3rd Party (booking.com, expedia.com, etc) This offer may not be combined with other discounts.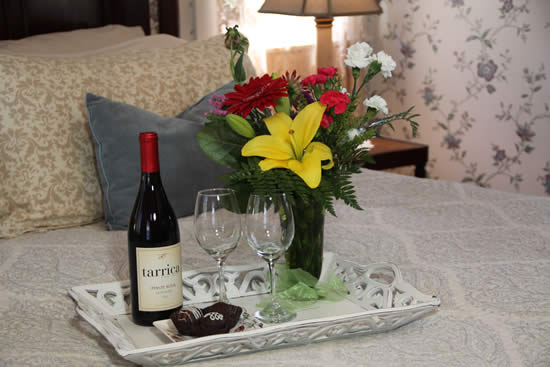 Make your stay extra romantic!
We'll prepare a chilled bottle of champagne for you and your loved one.
Add $45 to your room rate.
Please request this romantic special when booking your stay.
Guaranteed Best Rates!
Our "Best Rates" are available only on our reservation page or by phone. Many third party websites (like Expedia and Booking … TripAdvisor and even Google), claim to have the best rates for our guest rooms. They do not, because we provide them inventory. Truth is that you get the best room rates by booking through our website or calling us directly: 805-927-3222
We also send special offers via periodic newsletters. You can sign up for our mailing list: info@olallieberry.com.
Book Online and use promo code BestRate and you will get $10 off.
"We had a great experience, Olallieberry Inn sets the bar high. It was our first experience at a B&B, Will recommend and plan to visit again. Historic home, lots of character, clean, great breakfast, and very comfortable. Love the location on the creek and walk town!" – TH, Fallbrook.