Cambria's Olallieberry Inn – Specials
There's always something special going on at Olallieberry Inn! This includes discounted stays, special events and add ons that will enhance your getaway. Surely there is one that is just right for you and your loved one.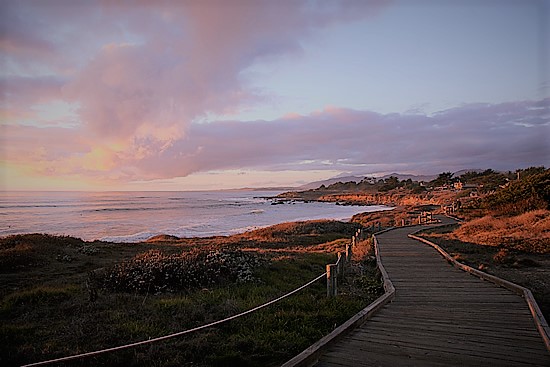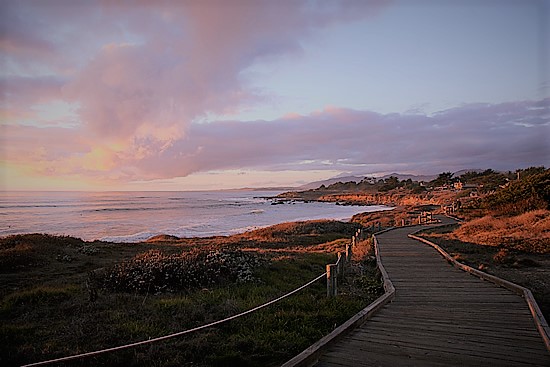 Olallieberry Inn's Cool Summer Special
Need relief from the heat? Come to the coast where we have ocean breezes and cool temperatures!
Book any 2+ nights Sunday through Thursday through September 30 and receive 10% off your room rate.
Included with your stay is our Olallieberry gift bag, Olallieberry Cookbook, Olallieberry preserves, and our popular homemade granola.
Fine Print: Must request "Cool Summer Special" offer at time of reservation. New reservations only. Excludes weekends and cannot be combined with any other offer. Gift certificates and gift cards may not be used with specials. Must book and stay prior to September 30, 2019.
BOOK ONLINE (Promo code is COOL) OR CALL 805-927-3222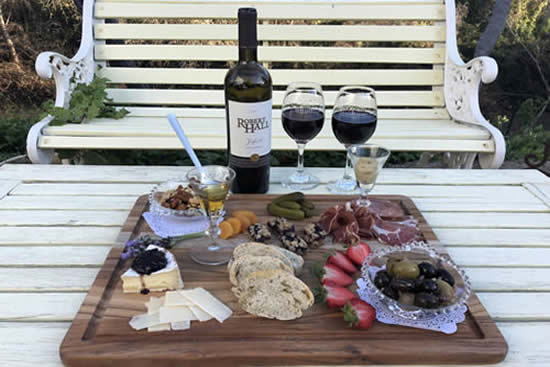 Olallieberry Garden Party Charcuterie Lunch
Enjoy a romantic lunch for 2 served in our beautiful Olallieberry Inn gardens.
Includes a selection of meats and cheeses, seasonal berries and fruit, homemade bread, our exclusive roasted nuts, marinated olives, Olallieberry bars, your choice of wine, and much more.
Your order must be placed at the time of your reservation or call 1 week before: 888.927.3222.
Lunch for 2: $60.00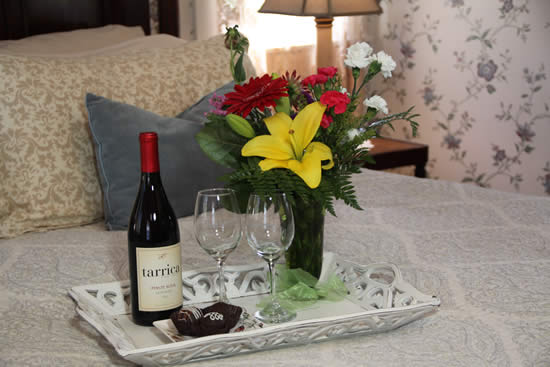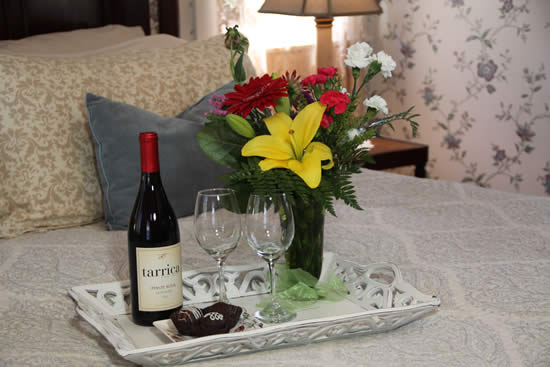 Make your stay extra romantic!
We'll prepare a chilled bottle of champagne and a fresh bouquet of flowers for you and your loved one.
Add $60 to your room rate.
Please request this romantic special when booking your stay.
Military Discount
We offer 5% off of your room rate for active military.
Please request when booking and present your credentials at check in.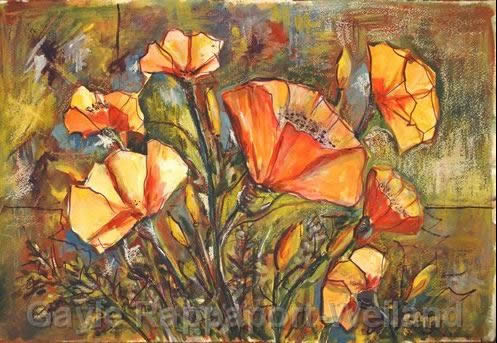 Olallieberry Inn Special Event!
Floral Mixed Media Experimentation Workshop Retreat
Hosted at Olallieberry Inn, Cambria
Fri., Sept. 20, 5:00pm – 6:00 pm
Meet, Greet, Show and Tell.
Sat., Sept. 21, 10:00 – 4:00pm
Workshop, Materials Provided.
Sun., Sept. 22, 9:30am – 10:30am
Review of Artwork.
Call Olallieberry Inn for workshop and lodging pricing and availability:
805-927-3222
Visit Gayle Rappaport's website:
http://www.grappaport.com/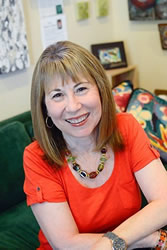 Gayle Rappaport -Weiland: Gayle brings the same originality, enthusiasm, energy and heart to her paintings as she does to her life. Using rule-breaking techniques that set her apart from the crowd, she creates beautiful impressionistic works, using watercolor, acrylic and mixed media. Her qualifications and expertise, whether as an artist, teacher, curator, juror and on-air personality are widely recognized and respected.
Gayle's paintings have been exhibited in galleries and personal exhibitions throughout the United States and are shown in a variety of galleries located throughout the West Coast. Collectors throughout the World proudly hold her work.
"We had a great experience, Olallieberry Inn sets the bar high. It was our first experience at a B&B, Will recommend and plan to visit again. Historic home, lots of character, clean, great breakfast, and very comfortable. Love the location on the creek and walk town!" – TH, Fallbrook.